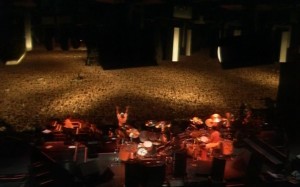 It's audience participation time! (Don't worry, we won't make you raise your hands up and go, "Oooooooooo…")
Do you have a question for the Tabletop? Want to add your 2 cents on a previous podcast discussion? If so, we'd love to have you join us (virtually) around the table in an upcoming episode!
You can do this in one of two ways:
1. Send us an audio recording (.m4a, .mp3) of your question or comment
2. Send us an email with your question or comment
Whether you are speaking or typing, please send to genesistabletop@gmail.com. We cannot guarantee we'll be able to include all submissions in an episode, but you have a pretty good shot if you follow the guidelines below:
— Include at least your first name and where you live (not your exact address – just city, state or country.)
— Please include "Tabletop Submission" in the subject of your email.
— If you are recording your question or comment, be sure to speak clearly and somewhere without a lot of background noise.
— Feel free to direct a question to a specific member or members of the Tabletop.
— You can submit more than 1 question or comment, but if you are recording these, please send each in a separate email following the guidelines above.
Thanks! (OK, NOW stick your hands up and go, "Oooooooooooooo…"!)